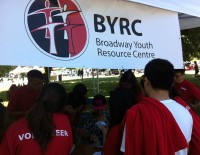 The Broadway Youth Resource Centre
The Broadway Youth Resource Centre can best be described as a one-stop youth centre that offers a wide range of social, health, education, employment, and life skills services to youth. Founded in 1999, the centre was recently re-designed with a focus on youth. In November of 2014 the new Broadway Youth Resource Centre building opened. The building also houses Kwayatsut Housing, administered by Vancouver Native Housing Society.
"Kwayatsut" (K-why-ah-sote) is from the Coast Salish language and means "seeking one's power" or "spirit quest". The building was named by Chief Ian Campbell from the Squamish Nation. Of the 101 units of housing in Kwayatsut, 30 units are designated for youth and supported by PCRS. These 30 units are specifically for youth who are most vulnerable to homelessness: aboriginal youth, LGBTQ youth, and youth leaving foster care. Open 2-6 PM Monday through Friday.
2455 Fraser Street, Vancouver, BC, V5T 0E6