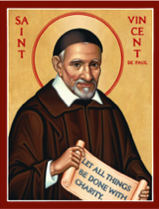 Society of St. Vincent de Paul Prince George, BC
The mission of the Prince George Society of St. Vincent de Paul is to help the people of Prince George and area who are in need.
The Society offers a variety of services including:
    meals

    food hampers

    support finding resources

    clothing and home furnishings

    a warm and safe place to gather
The society provides emergency food hampers to families with children and to those aged 65 or older who are not able to come to the Centre for meals. These hampers contain basic food needs for approximately one week. The hampers are available for pick up at the Drop-In Centre at these times:
 Monday and Thursday:  2:00 – 3:00 pm

 Tuesday, Wednesday, and Friday:  9:30 – 10:30 am,   2:00 – 3:00 pm
Care Cards and current proof of address are needed for each family member.
Volunteer Opportunities
According to the website, due to the need the society has secured a larger building for their Thrift Store. The new location is a beautiful space, well suited to our needs, but requiring extensive refurbishing.  The new location is 1645 – 3rd Avenue, across from the Native Friendship Centre.
If you are interested in gaining some valuable job experience and also giving back to your community there has been a posting on the website for those who are interested to do labouring jobs at the new store.   They also need volunteers at other times, those who have specific trades skills, to help with specific needs for refurbishing the new store.  Currently they are in need of electricians and plumbers.
If you are interested in helping out, please let them know your interests and skills by calling Ron at (250) 565-5034
http://ssvdppg.com/index.html
MAILING ADDRESS
Box 1617
Prince George, B.C.
V2L 4V6
1220 – 2nd Avenue
250 – 564-7871
1180 – 3rd Avenue
250 – 562-5136